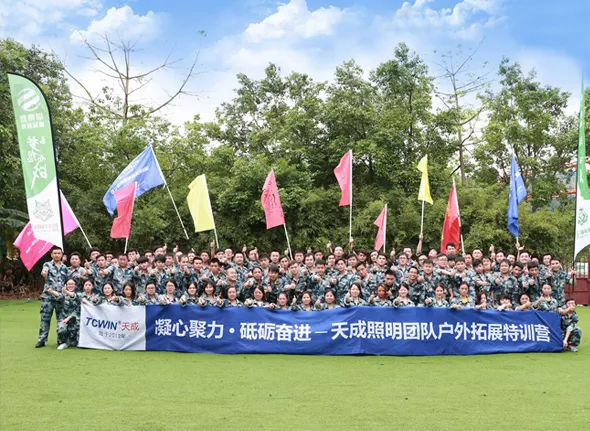 Army-yes, guaranteed mission
1: Tiancheng is the designation of our troops, the honor of the team is paramount, and work is what we have to do with our lives;
2: We have a steel-like record, tenacious will, and unremitting pursuit;
3: We regard obedience as a virtue; we are honest, grateful and responsible;
4: We act immediately and execute perfectly;
5: We have no excuses.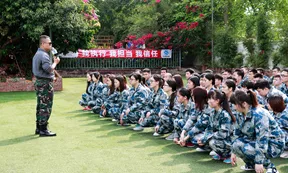 School-everything for concession to learning
1: Tiancheng is a school, each "he" is our teacher, we have a unique understanding: university is boundless;
2: We educate people: we emphasize ideological character, spiritual pursuit, good education, thinking habits and norms of behavior;
3: We are talented: we are a knowledge-based and professional team dedicated to the research of transforming high and new technology into social value.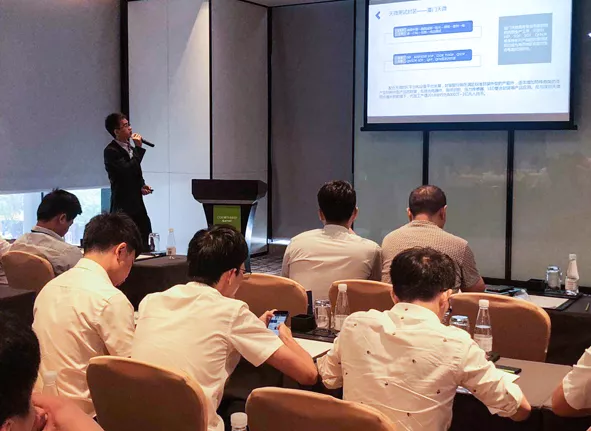 Family-your business is my business
1. Tiancheng is a warm family, the company, customers and suppliers are our family.
2. The family grows together, shares and develops.
3. The family is sincere with each other, do things with "heart", serve with "heart", feel with "heart".
4. Warm language care and warm encouragement of the family.

Financial aid for poor college students (Lighting and Engineering Display Association)
On January 10, 2019, the Shenzhen Lighting and Display Engineering Industry Association (SLDA) annual meeting was held in Shenzhen Dunhill International Hotel. Tiancheng Lighting is highly recognized by Shenzhen Lighting and Display Engineering Industry Association and the public

Shenzhen Lions Club Helps School Gardeners • Hand in Hand Charity Activities
On November 26, 2018, the Shenzhen Lions Club Lu Feng's "Happiness Educational Scholarship Program" was launched in 15 primary schools in Jiadong Town, Lufeng City, Guangdong Province. Tiancheng Lighting, as a member of the Lions Club, gave strong support to this event

Certificate of Appreciation issued by Shenzhen Chaoshan Chamber of Commerce
On August 30, 2018, continuous heavy rains in Shantou, Guangdong caused severe floods. Mr. Lin Jiangeng, the general manager of Tiancheng Lighting, actively donated funds through the Shenzhen Chaoshan Chamber of Commerce, and dedicated his love to the timely assistance and reconstruction of the disaster-stricken people.

Tiancheng Lighting and Shenzhen Lions Club hosted a blood donation event
On January 12, 2019, the "Donating Blood is a Hero" co-sponsored by Tiancheng Lighting and the Shenzhen Lions Club was grandly held in Songgang United Investment Oriental Phase I Plaza. Tiancheng Lighting "Deliver Love with Love"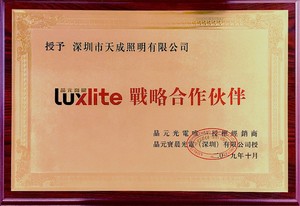 October 2019 Epistar's strategic partnership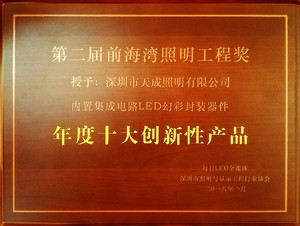 January 2018 The 2nd Qianhai Bay Lighting Project Award Top Ten Innovative Products of the Year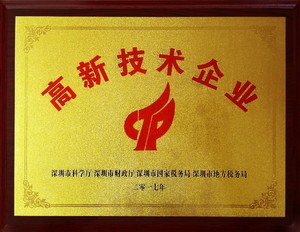 2017 National high-tech enterprise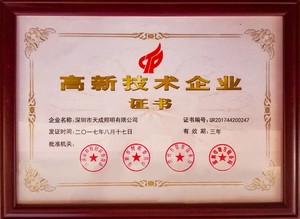 August 2017 National High-tech Enterprise